Vessels optimized for performance
Glass vessels made by AGI are optimized in a number of ways to improve their performance. These optimizations include a selection of different thicknesses for process, thermal jacket and vacuum jacket of vessels, optimised vessel geometry, and reduced jacket volume. See below for more information about these optimizations and how they bring value to your process.
Optimized vessel wall thickness
Glass tubes serve as raw material for vessels. At AGI, the thickness of glass tubes is selected based on where they will end up in the final chemical processing vessel. For example, in a triple wall (double jacketed) vessel, the innermost vessel has the smallest thickness compared to the remaining two layers; thermal and vacuum jacket.
Why do we do this?
The reason we select the smallest thickness for the inner vessel is to enable a higher energy exchange between the process and the thermal jacket. The thicker wall of the jacket provides more energy transfer into the process side compared to the vacuum jacket side or the environment (in the case of a single jacket vessel).
Where necessary, the glass tubes undergo an AGI proprietary thickness optimization method to achieve optimal wall thickness and mechanical stability in the final vessel form. The careful selection of wall thickness and thickness optimization method offers great value in terms of improved performance for all vessels made by AGI.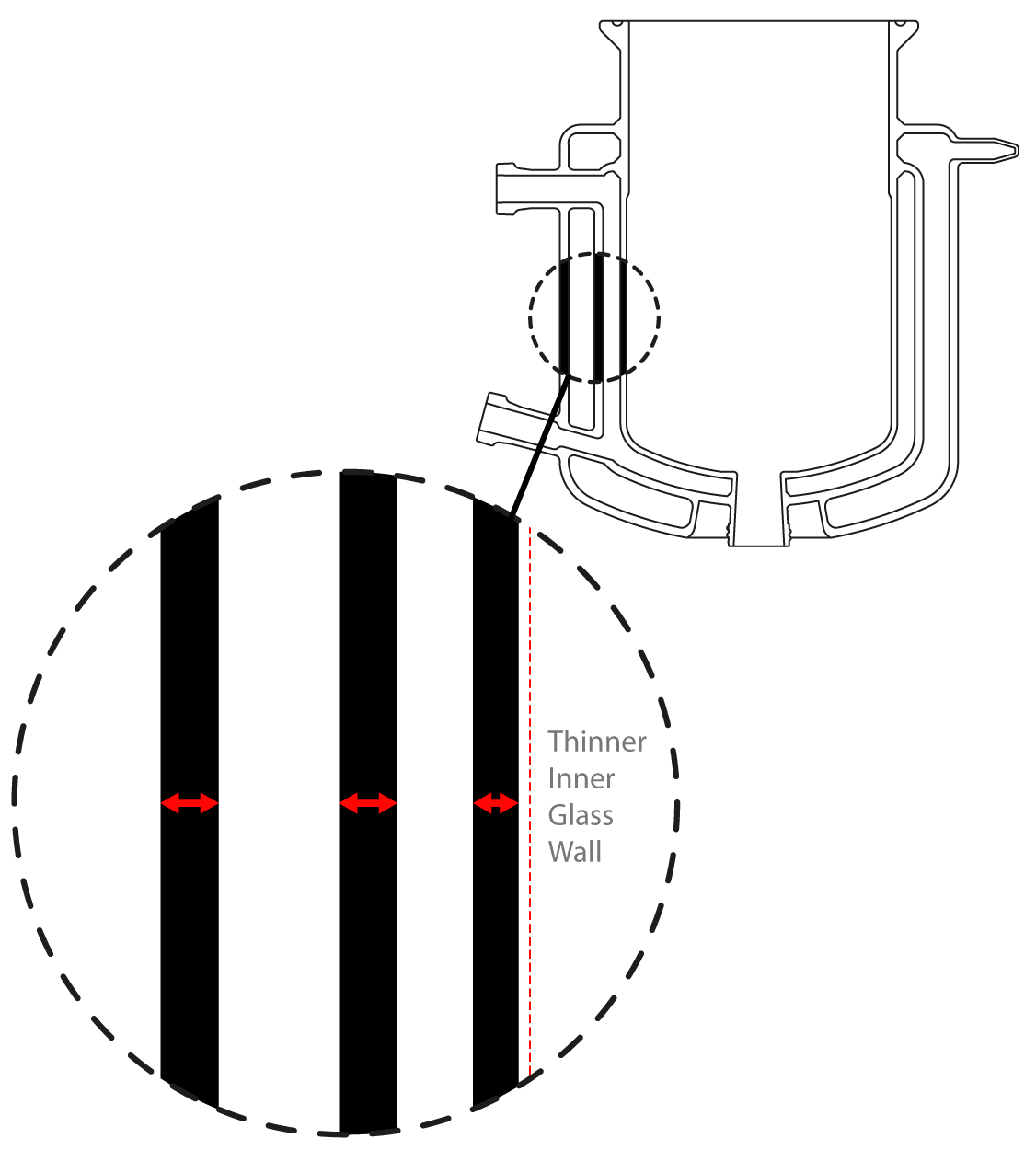 Optimized vessel geometry
AGI reaction vessels undergo different optimizations that result in excellent performance, including:
There are a few reasons to optimize the vessel geometry in this way:
Height to inner diameter ratio
To enable complete mixing of reactants. In vessels with a larger height compared to width, achieving complete mixing of reactants with varying physical properties is difficult, resulting in pronounced irregularities in mass flow rates at different heights of the vessel. Adverse effects of improper mixing are gradients in temperature, concentration, phases, etc. With our ratio, uniform mixing is achieved and prevents the adverse effects of poor mixing.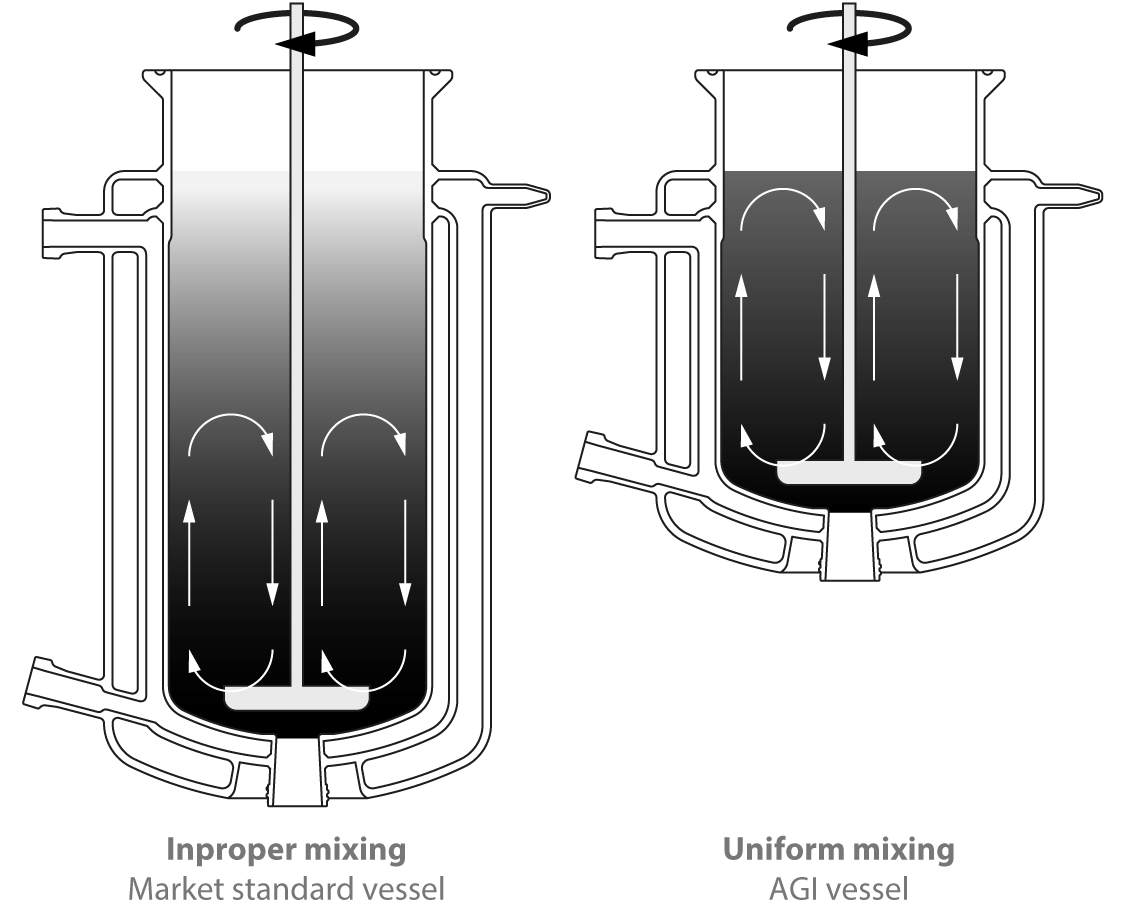 Vessel bottom
The vessel bottom is made to mimic glass-lined industrial vessels. This allows a meaningful reproduction of mass flow pattern in small vessels and helps to scale up with relevant process data.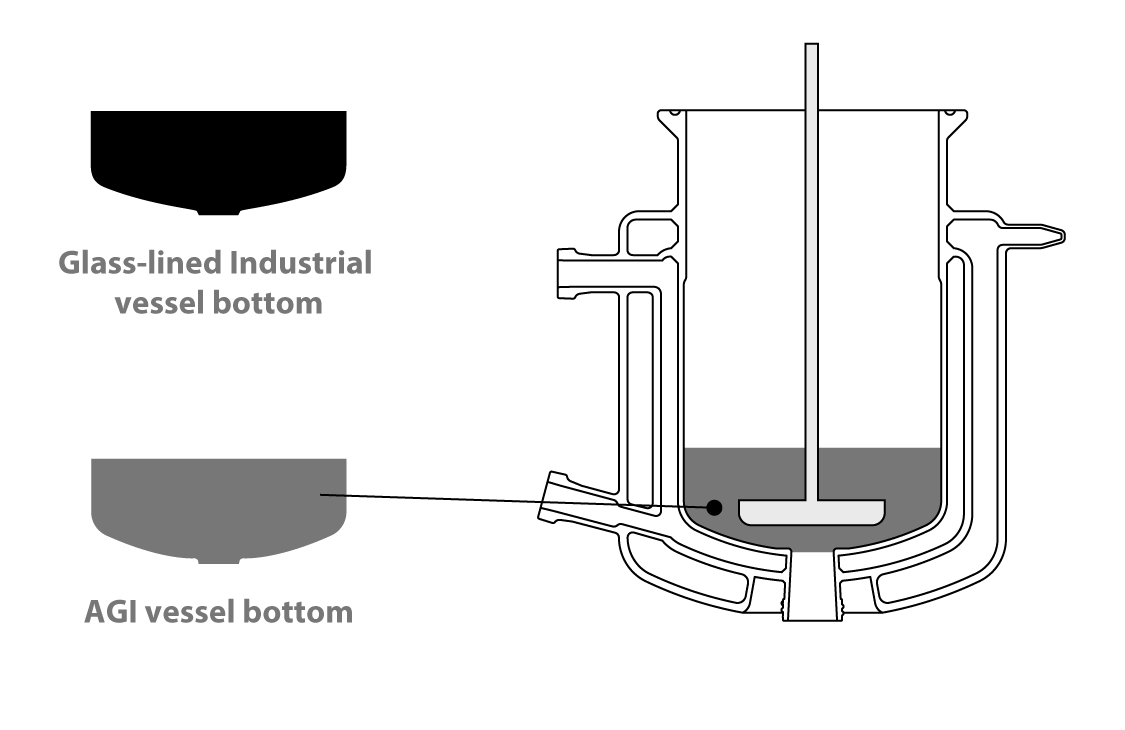 Small jacket capacity
A small jacket capacity allows for reduction in the amount of heat transfer fluid required and improves thermal performance due to a higher fluid flow rate. Our wall thickness optimisation works in synergy with small jacket capacity for improved thermal performance.