Scale-up and scale-down is easy to do with many of AGI's engineered systems. The systems offer consistency in design, and data that can be meaningfully extrapolated when planning for production scale processes. Explore how our products are designed to accommodate these different process scales below.
The core of AGI reaction systems are the vessels where the process takes place. AGI manufactures reaction vessels from 300 ml to 400 L volumes, and jacketed vessels for volumes of up to 300 L. All vessels made by AGI are optimized to provide the best performance possible. Areas of optimization include wall thickness, jacket volume, ratio of height to inner diameter of the vessel, and torispherical bottom. Each reaction vessel has some or all of these optimisations applied, resulting in geometries that are highly relatable when changing from one volume to another.
Starting scale-up
The scale-up of any process requires a thorough understanding of the existing process at the starting scale. If there are consistencies in the reaction vessel geometry, data generated during the process development stage can be extrapolated and used safely as a starting point for larger processes. With AGI reaction vessels, you have relevant and reliable starting scale-up parameters, which helps to optimize your large processes quickly without repeating the whole process development steps.
Geometric consistency
The geometric consistency between AGI reaction vessels and industrial reaction vessels, eg., glass-lined vessels, is particularly valuable because the process data from large AGI vessels can be used as a reliable starting point in your manufacturing process development.
Large range of reactor volumes
With a large range of reactor volumes available from AGI, you can easily establish the relationship between reaction volume and variance in process resource requirement before you invest in a large scale production system(s). The true value that AGI offers is ease of process scale-up and valuable data for meaningful and reliable large scale-up.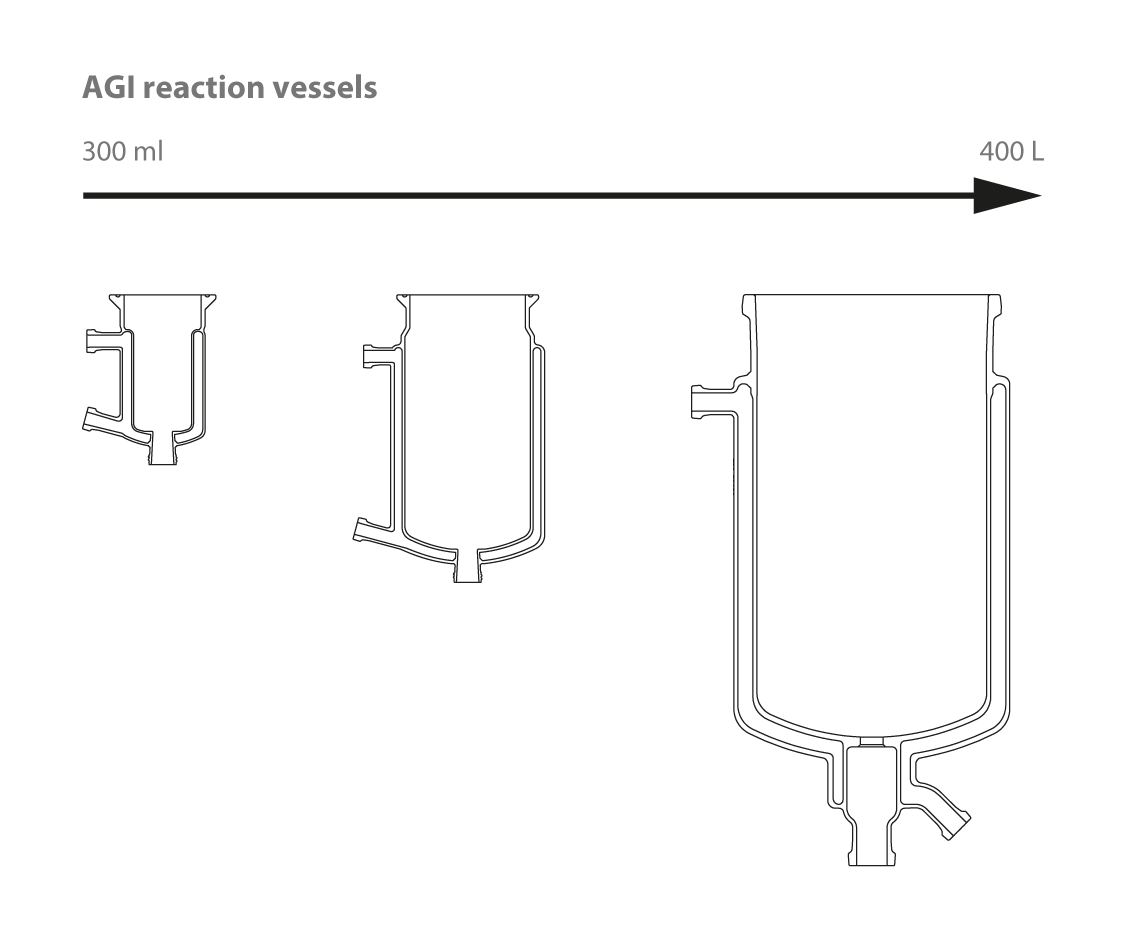 Of all the engineered systems that AGI offer, our Thin Film and Short Path evaporators have the capability to act as scaled-down versions of pilot and industrial scale evaporators.
AGI's Thin Film Evaporator and Short Path Evaporator are excellent tools for process miniaturization. They can predict the feasibility of evaporation processes and help users to understand the behaviour of chemical mixtures during the process. The advantages of this include minimal feed requirement, quick installation, low cost (compared to large pilot systems), and quick determination of process condition limits (before the material of interest becomes damaged). Essentially, they act as pilot testing units to determine the feasibility of the evaporation process before a large-scale plant can be established.
AGI evaporators can also act as tools for troubleshooting issues related to large commercial scale evaporation systems already in operation. A miniature version of a large system for troubleshooting purposes is relatively inexpensive and offers a wealth of data to identify any problematic process steps in the evaporation process.
Although there are limitations associated with the meaningful extrapolation of process data from small scale to large scale processes, the miniature versions (our standard Thin Film and Short Path evaporator systems)  are still useful for assessing the feasibility of a given evaporation process.