High efficiency evaporation
at lab-scale
AGI Thin Film Evaporator (also known as Wiped Film Evaporator) is ideal for separating volatile components from heat sensitive, viscous and fouling chemical mixtures. Thin film, under low pressure, reduces the boiling point of chemical components, as well as the hydrostatic pressure, resulting in the evaporation of volatile fraction at low temperatures. The PTFE wipers form a thin film on the evaporation column and push the film downwards with every rotation. This causes the heat-sensitive components to experience short residence time on the evaporation area and minimal thermal degradation.
The all-glass design of our Thin Film Evaporator allows for continuous visual monitoring, and the adjustable feed rate provides control over film formation.
Why should you choose a glass thin film evaporator?
A glass evaporator is ideal for process development and troubleshooting applications. An all-glass design ensures high visibility of the process, as opposed to steel evaporators. This means that any undesired events that might occur during process development can be easily observed and rectified.
Difference between thin film and short path evaporators
Thin Film Evaporator: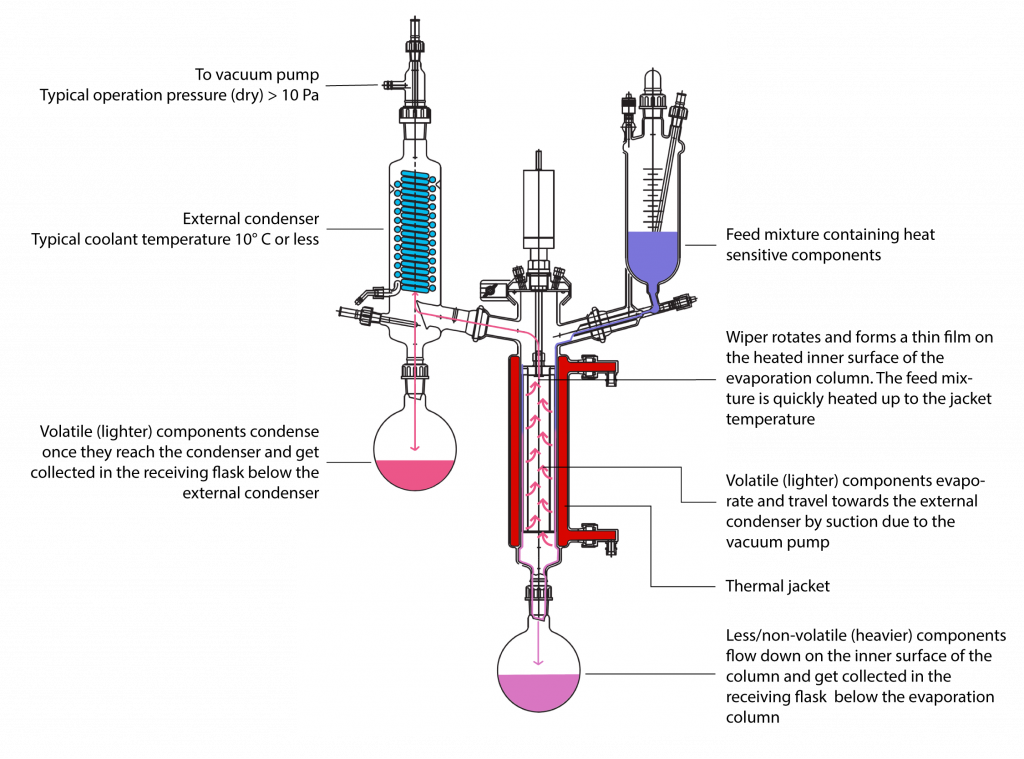 Short Path Evaporator: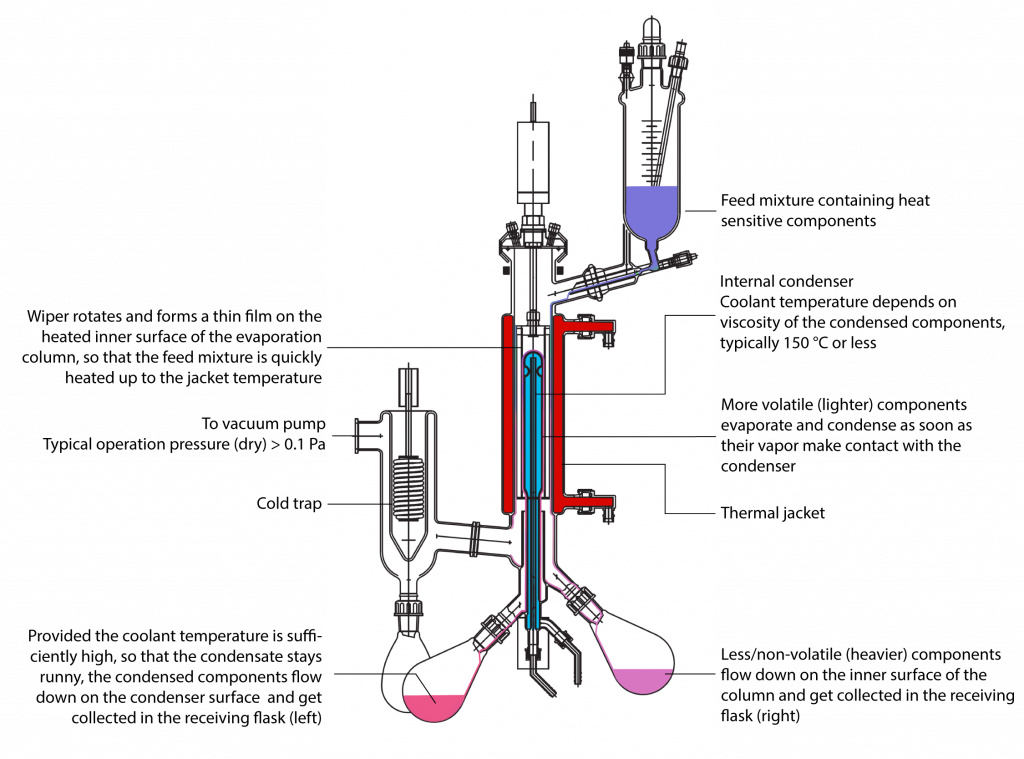 Why should you choose AGI Thin Film Evaporator?
AGI Thin Film Evaporator offers excellent performance at lab scale. Separate a variety of volatile mixtures at low temperatures and low thermal degradation. Our Thin Film Evaporator is suitable for small-scale processes, process development, pilot and troubleshooting studies.

Bulk removal of volatiles from
heat sensitive mixtures

Shorter residence time
compared to other evaporation systems

Uniform thin film formation
by PTFE wipers

Reliable Temperature control

Process visibility
due to all glass design

High degree of vacuum
due to magnetic sealing

Greaseless joints
for contamination free processing

Operating range up to 200 °C
300 °C as option


Stand with castors for
mobility
Evapration surface area
0.05 m²

 

(DN 60)
| | |
| --- | --- |
| Maximum temperature | +200 °C in jacket with PTFE wiper |
| | |
| --- | --- |
| | OPTION: +300 °C in jacket with PBI* wiper |
| | |
| --- | --- |
| Operating pressure | 0.1 mbar (abs.) to atm |
| | |
| --- | --- |
| Operating jacket pressure | Up to +0.5 barG (+0.05 MPa) |
| | |
| --- | --- |
| Feed rate | 0.1 to 1.5 kg/h (DN 60) |
| | |
| --- | --- |
| Maximum viscosity | Up to 1,000 mPa.s (custom-made) |
| | |
| --- | --- |
| Maximum wiper rotation speed | DN60 300rpm (continuous) 350rpm (Intermittent) |
| | |
| --- | --- |
| | DN100 200 rpm (continuous), 250rpm (Intermittent) |
Notes
This system does not include overhead stirrer, circulator and chiller
Wetted Parts: Borosilicate 3.3, glass, PTFE or SS316
*PBI = Polybenzimidazole

Customization possibilities
AGI Thin Film Evaporator can be customized and we are happy to discuss the design of custom features with you in order to meet your specific process requirements. Many applications benefit from adjusting the material properties and/or physical size of the evaporator.
AGI Thin Film Evaporator customisation examples
Fully corrosion resistance models for aggressive chemical mixture separations E.g., using Hastelloy
Modifications to evaporation surface area e.g., 0.012 m² (DN 45) or 1.5 m² (DN 450)
Addition of thermal jacket to feed and receiving vessels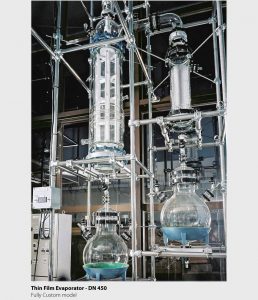 Something else in mind?
At AGI, we can help to find the best solution for you. If you have additional requirements or a design already in mind, feel free to send us a message and/or drawing so that we can understand your process better and provide you with a customised product that meets your exact needs.