Pressure, performance, and safety
AGI Pressure Reactor can withstand up to 10 barG pressure in an all-glass vessel design. Every glass reactor is pressure tested and has a protective covering for maximal safety. There is a unique removable glass shaft in the flush valve for easy cleaning, and the reactor lid has 8 ports to accommodate various accessories. The magnetic stirrer seal provides protection against pressure leakage and is made of SS316 (Option: Hastelloy®) for excellent corrosion resistance.

Why should you choose AGI Pressure Reactor?
AGI Pressure Reactor is designed by experts to provide users with excellent pressure control, performance, and safety. We have extensive experience in scientific glass fabrication and in providing solutions for a wide variety of chemical processing industries.
We integrated our knowledge into a system that offers the following advantages:


Flush valve with removable glass shaft

Optimum safety with protective cage and individual pressure testing

All glass body that allows visual monitoring of processes

Wide process temperature range;
-90 °C to +200 °C (300 °C as option)

Made of corrosion resistant materials (SS316 or Hastelloy® as option)
| | |
| --- | --- |
|  Vessel capacity | 500 mL, 1 L and 1.5 L |
| | |
| --- | --- |
|  Vessel type | Double wall DN80 |
| | |
| --- | --- |
|  Operating pressure | Full vacuum to +10 barG (1 MPa) |
| | |
| --- | --- |
|  Operating jacket pressure | Up to +0.5 barG (0.05 MPa) |
| | |
| --- | --- |
| Operating temperature | -90 °C to +200 °C |
| | |
| --- | --- |
| ΔT - Thermal shock resistance | 60 °C (double wall) |
Notes:
Overhead stirrer, circulator and chiller are not included
Support structure: Metal structure with transparent window
Flush valve shaft: PTFE or PEEK or Glass
Impeller: SS316
Wetted Parts: Borosilicate glass 3.3, PTFE, SS316 (Optionally Hastelloy®) and FFKM
Customisations are possible on request

AGI has partnered with Mettler Toledo to provide you with a fully automated pressure reactor using an RX-10 reaction control unit. RX-10 provides you with superior control over reactions compared to other automation systems. We offer a complete set up that allows you to capture and report all of your process data in one place using an intuitive touch screen interface.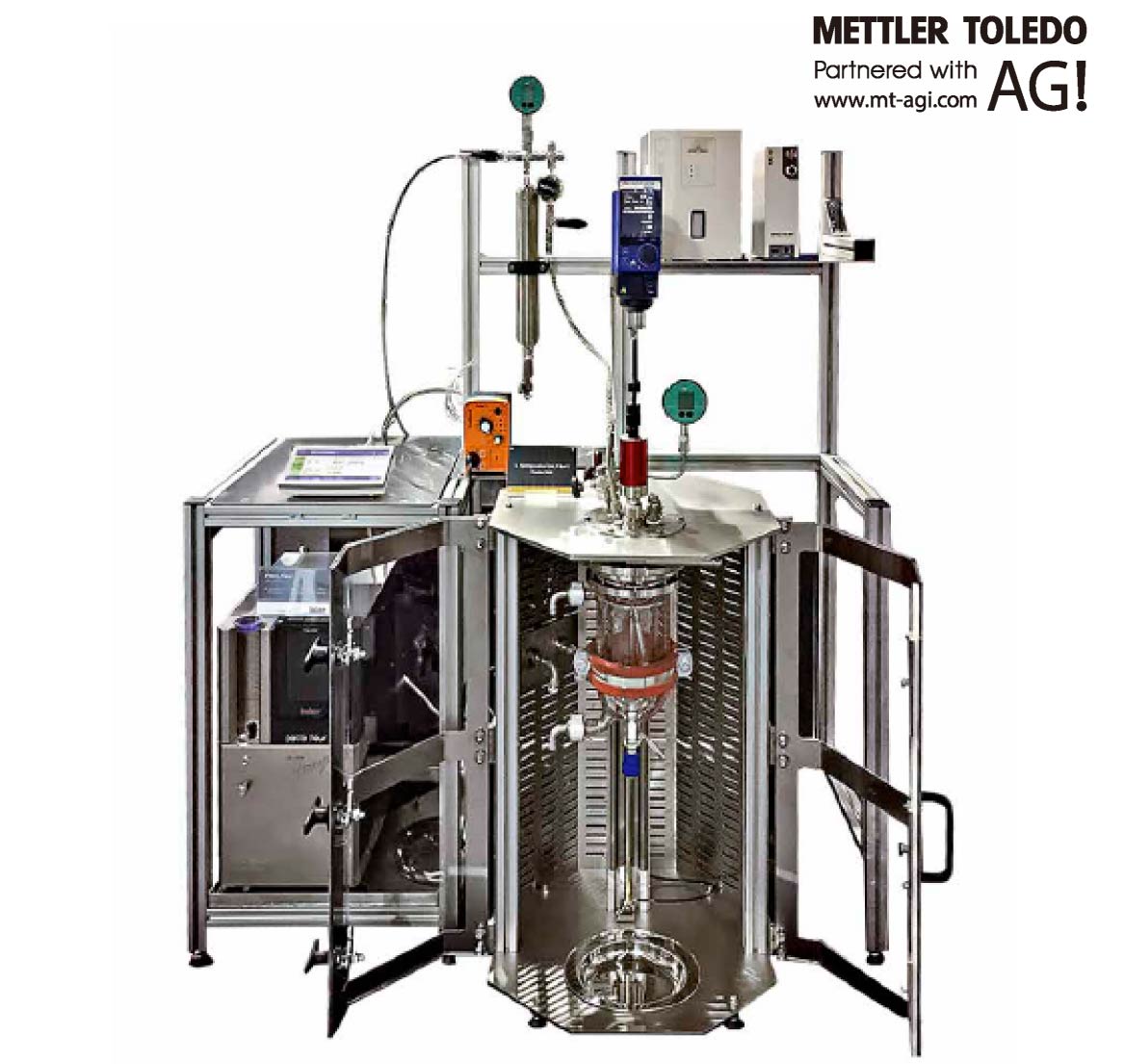 Hydrogenation System
AGI Pressure reactor with Mettler Toledo RX-10
Something else in mind?
At AGI, we can help to find the best solution for you. If you have additional requirements or a design already in mind, feel free to send us a message and/or drawing so that we can understand your process better and provide you with a customised product that meets your exact needs.