Explore the features that offer safe, fast, and efficient solid-liquid separation performance 
Sealed for up to 2 bar pressure usage
The vessel, filter, lid, and components are all designed to withstand pressures of up to 2 barG. The sitter seal is specifically designed for this pressure range, and prevents pressure leakage during stirring operation.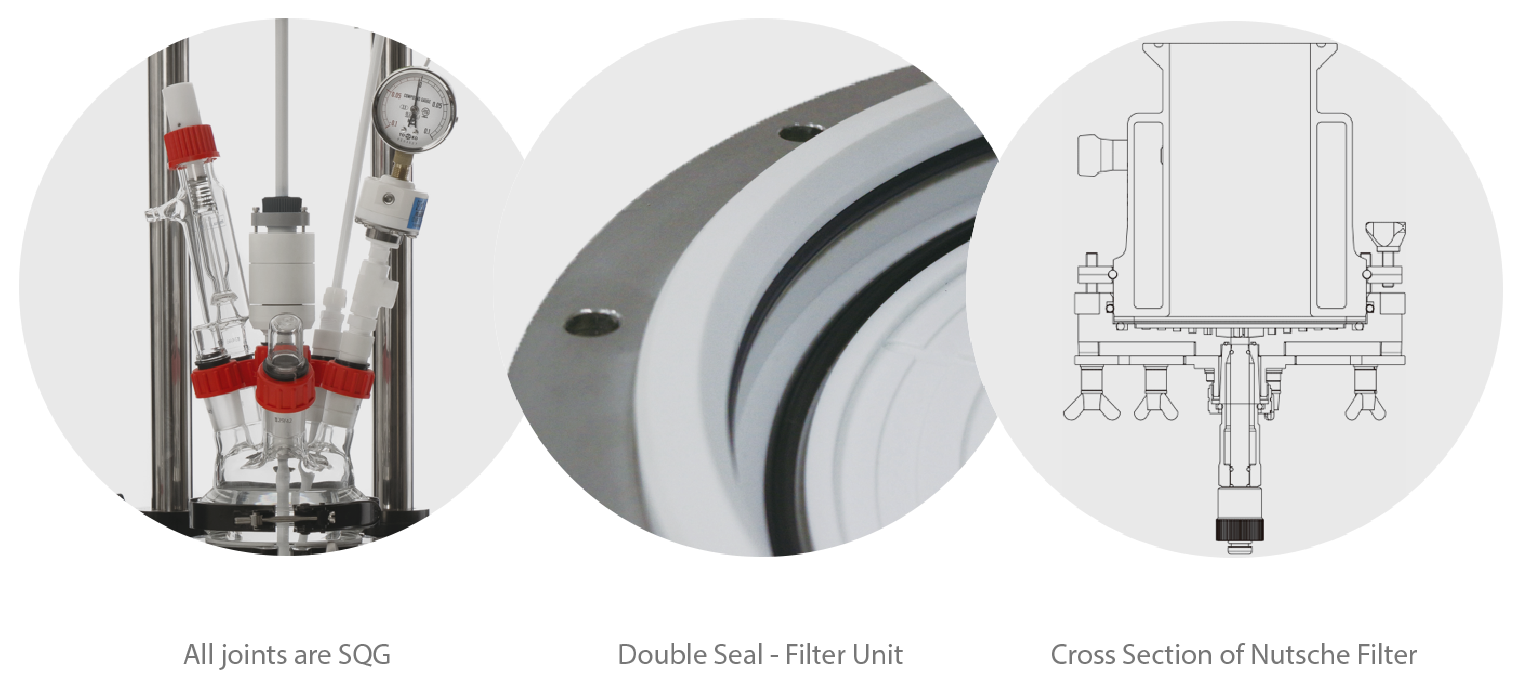 The filtration part is composed of a PTFE plate, a sintered filter to support your choice of filter membrane/cloth, and a gasket for holding it in place. The connection between the filter and glass vessel is secured by easy-to-use wing bolts. Additional press bolts at the side of the vessel allow you to separate the filter from the glass vessel at the end of the process. A lab jack supports the filter base so that the filter can be safely opened for product collection.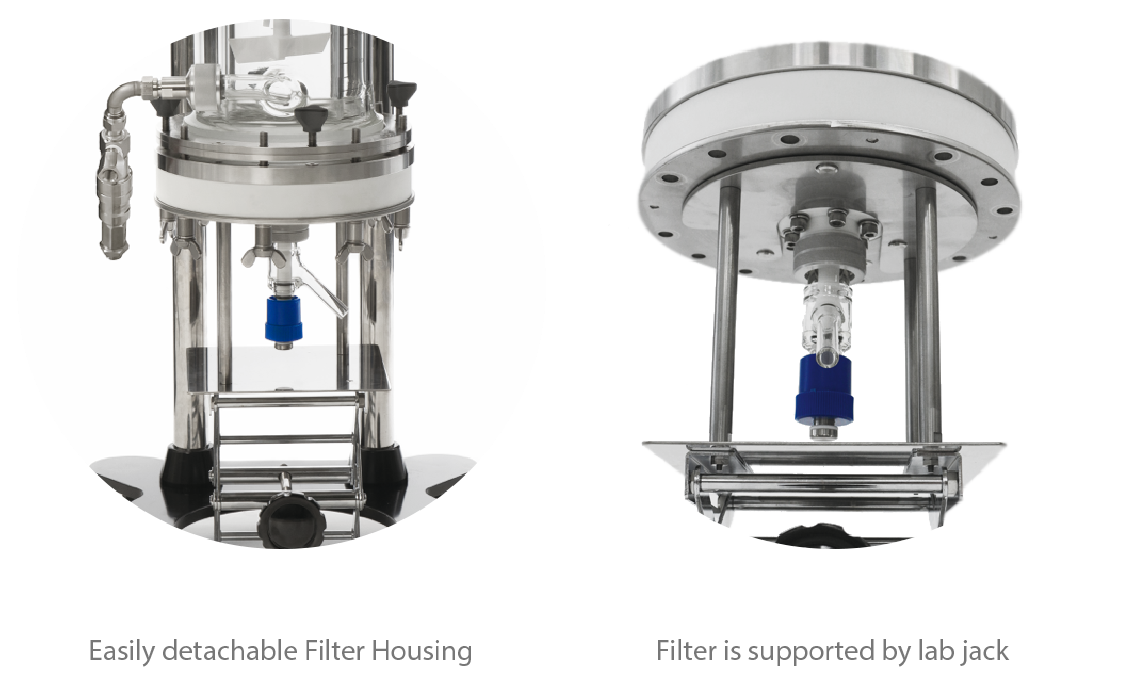 AGI Benchtop Nutsche Filter has safety features that protect the user and the vessel in the event of unforeseen pressure shoot up. The pressure relief valve is calibrated to release excess pressure beyond 2 bar G, and the clear polycarbonate protective shield covers the entire vessel area and is easily removable for filter access.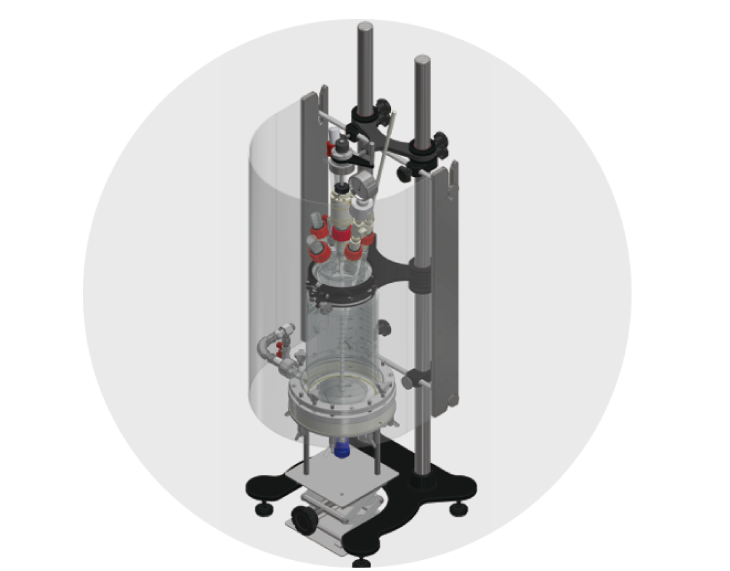 Polycarbonate protective shield around the filter unit
Multipurpose stirrer blade
The filtration stirrer blade helps to mix the slurry during the mixing phase, and smoothens the product cake (in a clockwise rotation) so that the washing medium passes through it uniformly, ensuring thorough washing. After washing, the filtration stirrer blade helps to break apart (in a counter-clockwise rotation) the product cake for easy drying.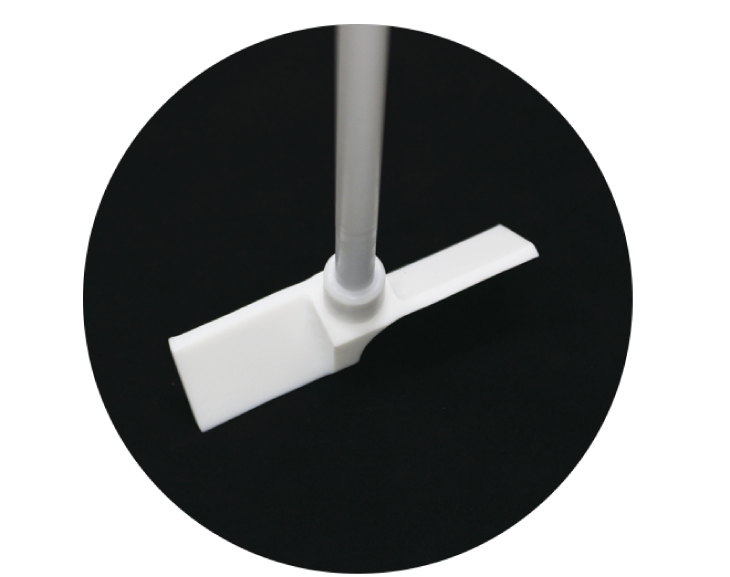 Filtration blade for stirring, smoothening and breaking cake
Our filtration part is meticulously designed to perform washing and filtration effectively. The gasket with O-ring forms a perfect seal between the glass and the PTFE plate.
Note: Since the pore size of filter membranes are variable, they are not included in standard package.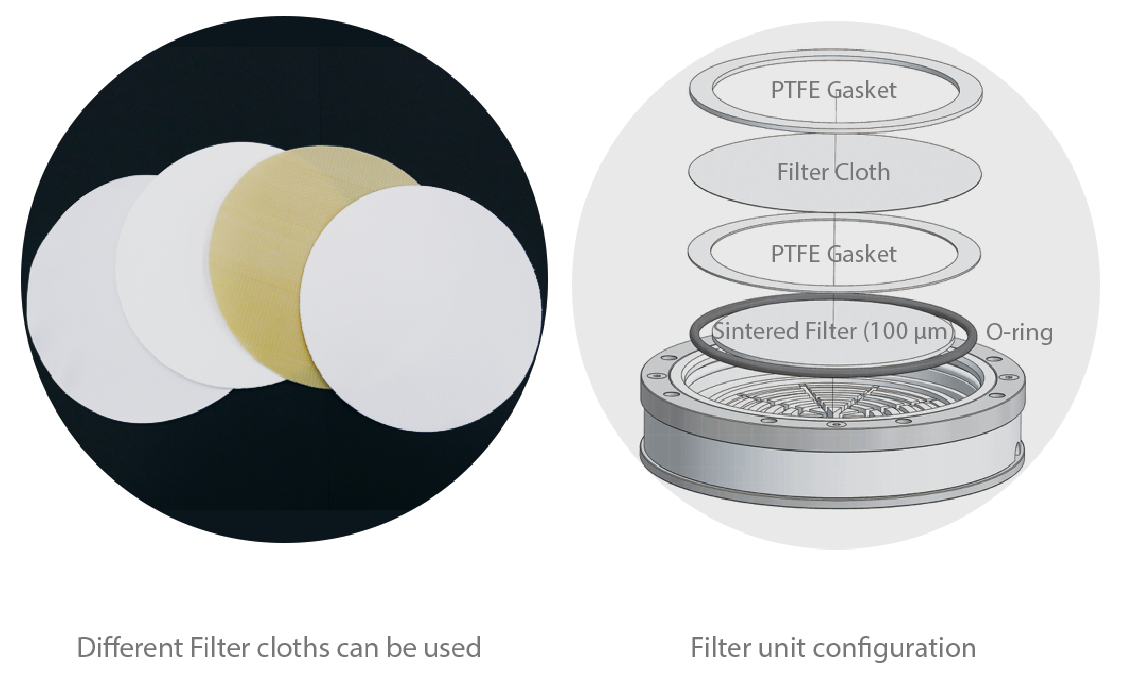 Convenient quick-release couplings
The thermal jacket is connected to the thermostat tubings via quick-release couplings. At the end of the process, the tubings can be quickly removed and the vessel can be rotated for easy product collection. The couplings also have pressure safety valves that protect the glass vessel in case of over-pressure in the thermal jacket.
Easy end product collection
Vessels can be rotated 360° in the stand using the vessel swing/rotation mechanism. This is a useful feature, especially if the end product volume is large and the filter can't be opened without spilling. The lid can be removed and the vessel can be pushed out, rotated, and secured at any desired angle.
Not available for 3 L and 5 L Double wall Vessels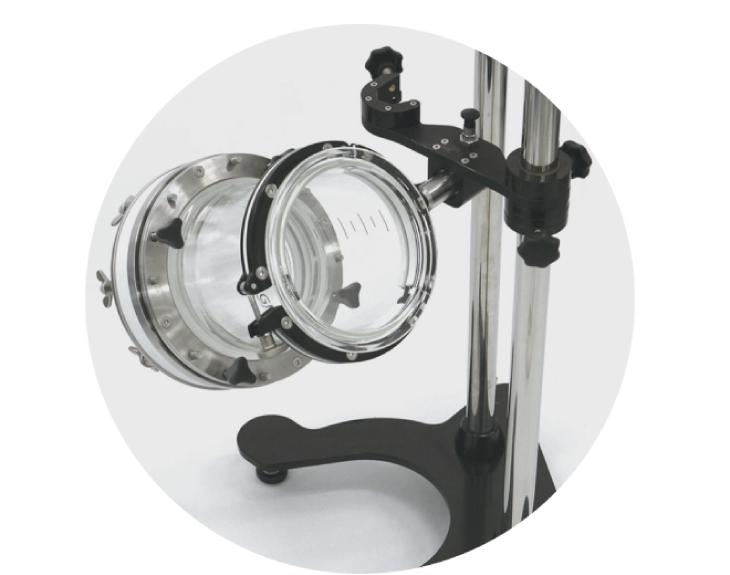 Easy access to product for collection
Full jacket design for high thermal performance
A full jacket design means that the thermal jacket fully covers the process vessel, which offers maximised thermal transfer to the process. The filter and flush valve are designed to provide very minimal dead space.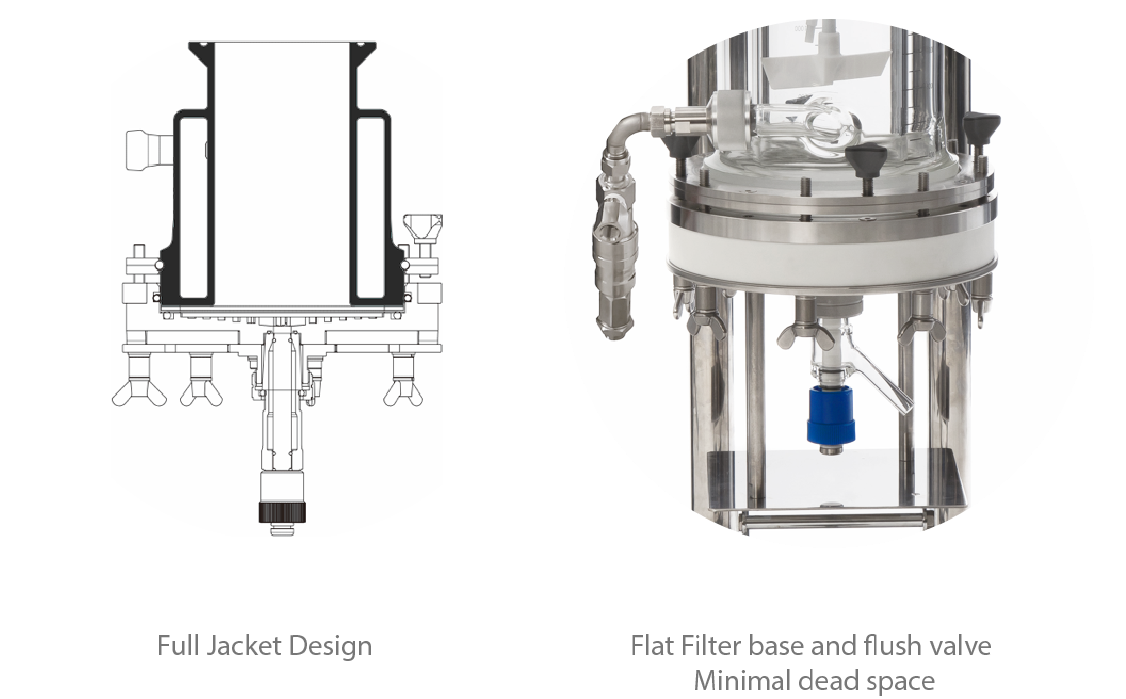 Glass Body (Double Wall, Single Wall),
DN 100 (1 L, 2 L) / DN 150 (3 L, 5 L)

Stopper for Additional Hole, SQG 24/40

Stopper for Hand Hole, SQG 29/42

Safety Valve

Glass Cover, DN 100 (1 L, 2 L) / DN 150 (3 L, 5 L),
6 Ports (SQG 29/42 x2, SQG 24/40 x4)

Filtration Part, PTFE

O-ring, FKM

PTFE Stirrer Shaft, Shaft OD: 10 mm

Temperature Sensor Probe, OD: 8 mm, L: 660 mm

Compound Pressure Gauge

PTFE Stirrer Guide, Glass Ball Bearing, SQG 29/42, Shaft OD: 10 mm

Support Structure

Tilting Clamp

Shaft Holder

Metal Adapter for HTF, screw coupling, M16

Metal Adapter for HTF, screw coupling, M16

Protective Shield

Lab Jack

Quick Release Clamp, DN 100 (1 L, 2 L) / DN 150 (3 L, 5 L)

Coupler M16

Coupler M16 with safety valve
* All O-rings are consumable parts
**Overhead stirrer motor is not included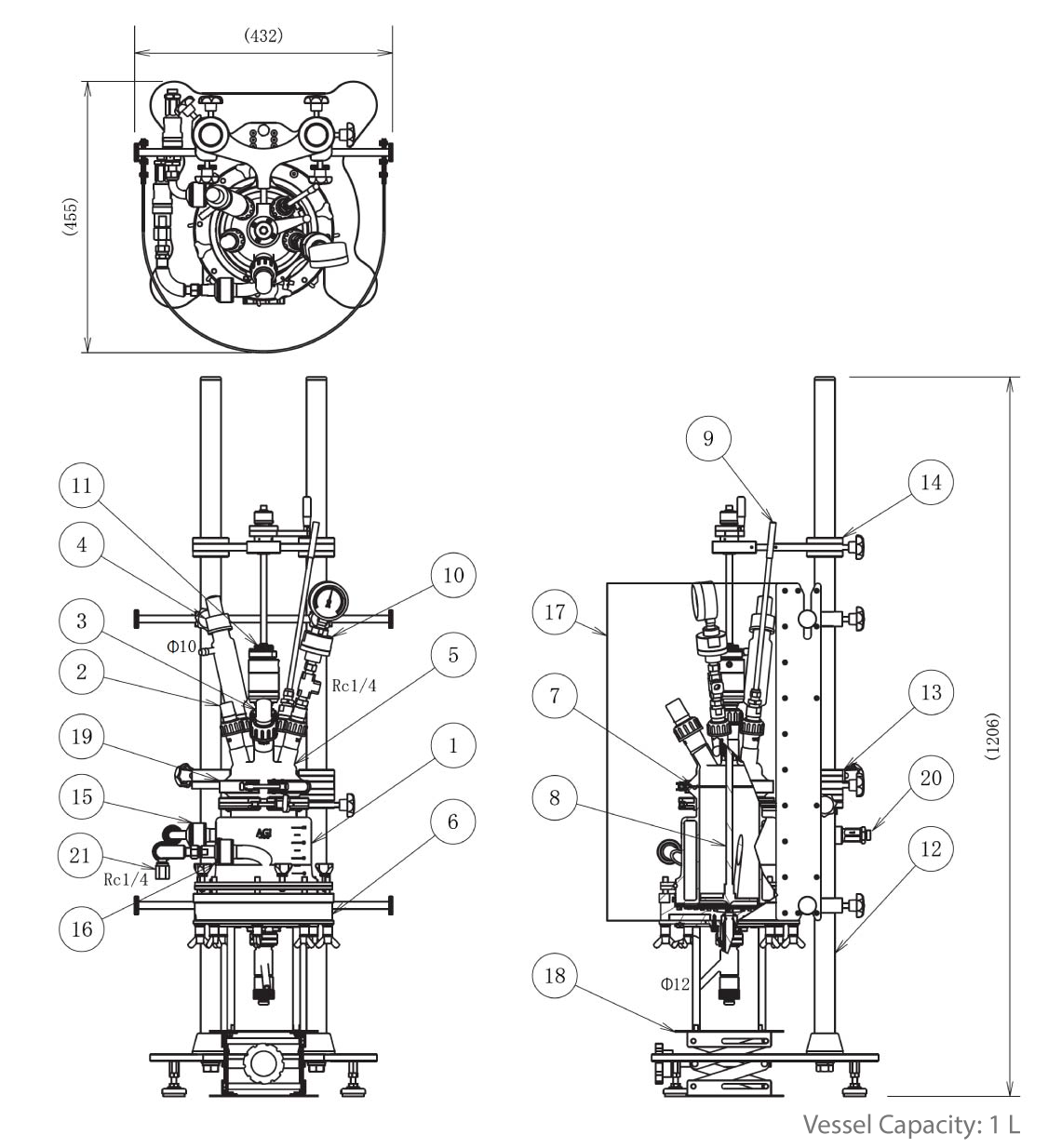 Something else in mind?
At AGI, we can help to find the best solution for you. If you have additional requirements or a design already in mind, feel free to send us a message and/or drawing so that we can understand your process better and provide you with a customised product that meets your exact needs.